As a homeowner living in Simpsonville SC, or if you are buying a home in the area, you'll need to deal with home problems such as pest infestations and wet crawl spaces from time to time. The reason is that of the varied climate and conditions that we receive throughout the year.
Simpsonville, South Carolina
Many of the residents in Simpsonville own their houses, which makes the suburb an ideal place to live if you are thinking about purchasing a home in here. Residents are mostly families and young professionals working in the metropolitan area. Simpsonville is considered a part of the Golden Strip, a term that collectively describes the cities along Greenville's Interstate 385. However, like in most parts of South Carolina, Simpsonville has a humid subtropical climate that also features hot summers. This is an ideal environment for pests.
Scout's Home Solutions
At Scout's Pest Control, we offer numerous solutions for your home needs. The best part is that we do consultations free of charge for your home. Furthermore, we also provide guarantee program to ensure that we only give you the best services to satisfy your needs.
Simple Pest Solutions
We conduct a pest control program, which is done twice a year. Our certified technicians inspect your home to check for pest infestations. Through our Scout's Simple Pest Solutions program, we conduct an in-depth inspection of your home. We will then examine entry and exit points in all parts of your home before we offer solutions to seal or secure them.
Home Pest Control Simpsonville
We employ our Scout's Pest Prevention Program quarterly to ensure that your home is free from any pest infestation. Our goal is to protect you and your home by creating solutions that will serve as a barrier against pests like rats, termites, and mosquitoes. We ensure that your home is safe down to its foundation walls.
Termite Control
Simpsonville is no stranger to termites, which are common because of the humid weather that attracts them to the foundations and crawl spaces of your home. Moisture makes termites thrive, and it triggers wood rot and mold growth. Scout's Termite Control aims to get rid of termites and the excess moisture that makes them stay longer in your Simpsonville home. Contact is for a free Crawl Space Inspection of your home.
Crawl Space Encapsulation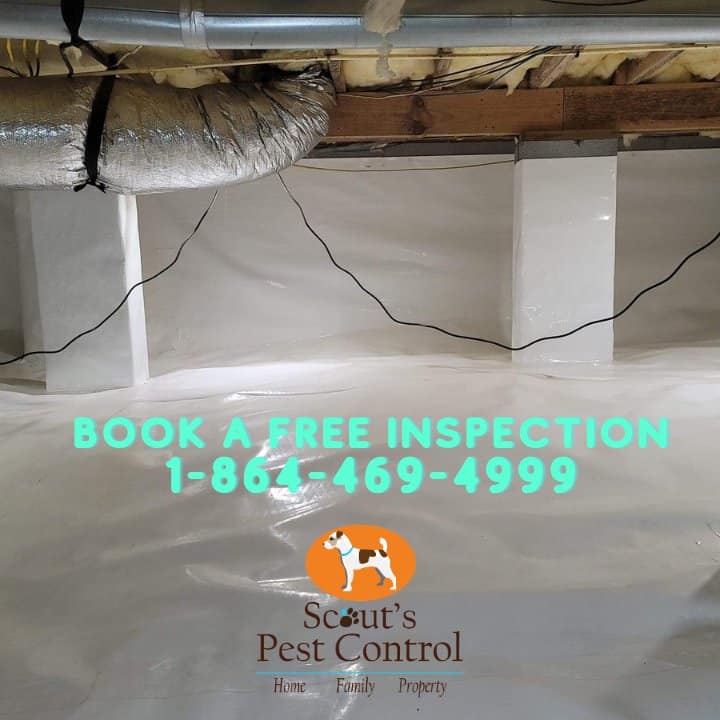 Scout's Pest Control Simpsonville takes pride in its crawl space encapsulation service. It is one of the services that we are known for and the quality of the service is second to none. Consequently, this procedure is a part of our Termite Control program where we do not only remove termite infestations from your home. We make sure that termites don't go back by keeping your crawl space and foundation walls clean and dry. We try to ensure, that you can stay protected against termite infestations and wet crawl spaces despite having humid weather in Simpsonville SC. Should any infestation return we will treat free of charge as long as your termite bond is still within its time limit.
Mosquito Control
The hot and humid summers in Simpsonville SC attract pests like termites, and mosquitoes aren't an exception either or of course spiders and many other pests. We make sure that you get maximum protection by treating your home interior and exterior. Moreover, we provide treatment solutions for your lawn area, and ground cover where mosquitoes are hiding.
Scout's Mosquito Control features three programs that can fit your budget:
Special Event Treatment 24-48 hours prior to a home invasion
Three Pack of Treatments, which saves you money while getting mosquito protection.
Seasonal Mosquito Package that offers you maximum protection by covering 9 treatments + 1 free Special Event Treatment
Fast CL-100 Termite Inspection
Aside from our home services for homeowners, we offer Scout's CL-100 Termite Inspection for realtors to make the most out of free re-inspections, discounted prices, and priority scheduling. Our process is streamlined to make inspections easy for homes that are prepared to be sold. We schedule inspections directly with the realtors' and producing detailed reports that include photos, normally the same day.
We also offer our services in Greenville SC, Anderson SC, Spartanburg SC, Laurens SC, Lake Oconee, and Abbeville SC. Contact Scout's Pest Control today, so we can treat your homes and protect you and your family against pest infestation and humid conditions.
Image provided by Wikimedia
https://upload.wikimedia.org/wikipedia/commons/7/7b/Cureton-Huff_House_-_Simpsonville%2C_SC.jpg