At the very least, you should install a vapor barrier in your crawl space, which is also commonly known as a moisture barrier. Let's identify the benefits, and why you should install one in your crawl space and the potential to protect your home from pests.
What Is A Moisture Barrier?
Your crawl space is often exposed to environmental elements, especially in our local area. South Carolina is known for its humidity and changing climate. A moisture barrier protects your crawl space.
You can install a vapor barrier if you don't have one already. Make sure the ground under your house is well drained. Drainage problems can cause mold and rot that can spread to your crawl space. If you have a crawl space with a concrete floor, make sure the concrete is clean and free of dirt and grime. The vapor barrier will protect your home in a myriad of ways, and if you cannot afford full encapsulation now, a vapor barrier is the least you should employ. Also consider adding quality ventilation and humidity extraction.
What issues exist without a moisture barrier protecting your home.
The potential of wood rot, mold and other issues is very high, and that will lead to more issues that will affect the home. Pests love your crawl space and will find what they need to survive. If a food source is found in the crawl space as well as water; it will offer that perfect environment to pests and, in turn, result in severe damage to the home. Pests thrive in those conditions and will begin eating into the structure of your home.
The types of pests that can thrive in your crawl space
Wood Damaging Pests such as termites, carpenter ants, wood boring beetles, are ultimately the most destructive that will damage the integrity of the house structure.
Rodents, snakes, insects, and moles are also on the high risk list. However, the most common type of pest in the crawl space is the rodent. Rodents can be very destructive as they chew through wiring, insulation, heating and plumbing systems. Once an infestation occurs, it can become a nightmare to try to get rid of them.
The Benefits Of A Moisture Barrier
What are the benefits of a vapor barrier installed in your crawl space? In reality, there are numerous benefits to installing a moisture barrier. These benefits can be achieved by simply sealing your crawl space with a vapor barrier and a few other simple measures, such as installing a dehumidifier and proper drainage.
It will protect your home from moisture-related damage. Moisture is a huge issue in a crawl space. Without a vapor barrier, moisture can cause severe damage to your home.
It will protect you from pests making your home their home.
It is an investment in your home, and you can always move toward a full encapsulation later.
It will save you money by optimizing energy consumption from your HVAC system.
There will be a dramatic improvement in air quality, thus increasing environmental health.
First, you need to identify if you have a drainage issue in the crawl space. Have you noticed standing water around your home.
If so, you probably have a leaky sump pump or a blocked drain. You can fix this yourself, but that can often cause more problems, and you have no come back. Moreover, you should contact a professional to get this issue fixed. If you don't want to go down the DIY route; then hire a professional to inspect your crawl space in the first instance. This will identify the issues you have, not only from a moisture point of view, but from the potential of invading pests too.
Standing Water Needs To Be Drained
If you have standing water in your crawl space; then your immediate need is to make sure it gets drained away from the home.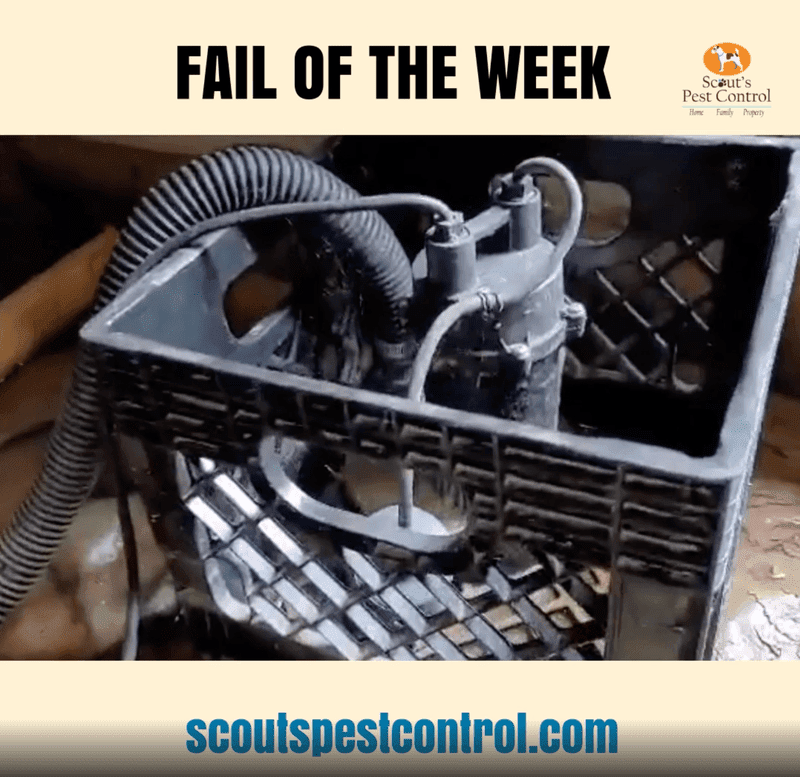 If you live in a humid climate like South Carolina, then you stand a greater chance of experiencing moisture related issues in and around your home. Your home will need sufficient drainage to ensure any excess water is removed and does not pool, thus causing issues. You will need to make sure that the drainage system you choose is able to handle the standing water, and you have a way of removing the increased moisture in the air within the crawl space. The most important thing about crawl space drainage is that it should be installed properly.
Install A French Drain
One of the easiest ways to deal with standing water in the crawl space is the installation of a French drain to carry the water away from the property.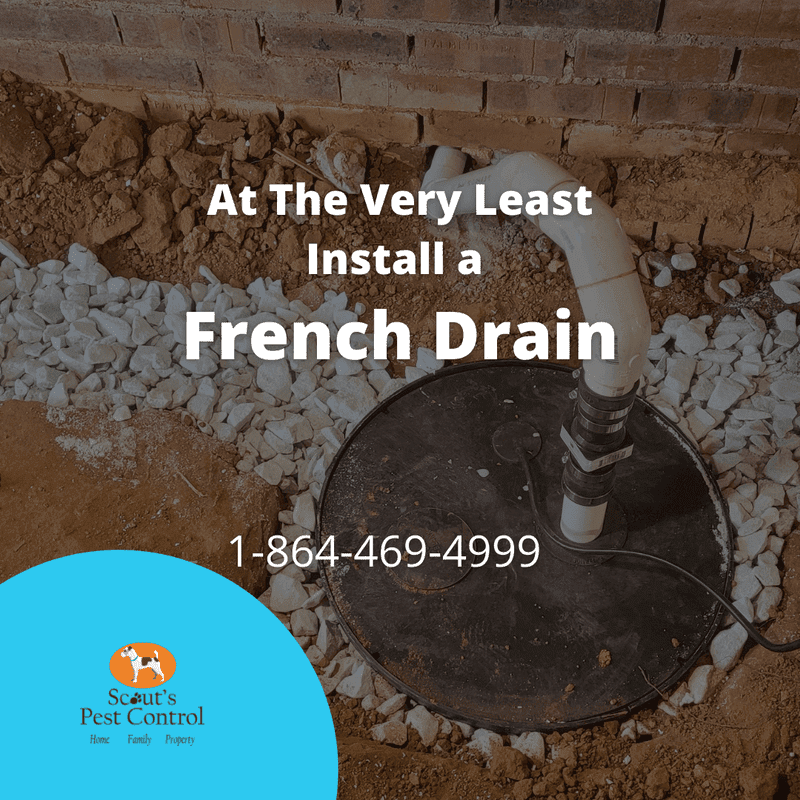 The installation of a French drain is relatively inexpensive, and can be installed by a crawl space professional. It is also very effective at removing water from the crawl space. French drains are most commonly constructed using a PVC pipe that runs from the foundation to a sump pump or drainage area. Removing the water this way is also ensuring you don't allow a conducive environment for pests looking for food and water for survival.
At the very least, a French drain should be installed with your vapor barrier. The investment is relatively small compared to the benefits you will experience with a properly installed drainage system and vapor barrier.
Book A Free Crawl Space Inspection and Let Scout's Check It Out.
Book a free crawl space inspection to identify if you have moisture and pest issues in the crawl space. The inspection does not take too long but is thorough enough to find all those issues that you may miss by having a cursory glance into the crawl space. This needs the services of a licensed professional who will be able to identify what you can't. Scouts pest control are fully licensed and conduct inspections on a regular basis.
Check Out How Your Crawl Space Could Look!
Images