DIY Crawl Space Encapsulation – Don't Do It! Over 20% of newly-built houses in the U.S. have crawl spaces. These spaces provide a way for the HVAC, electrical, plumbing, and gas lines to navigate safely throughout the entire house. More often than not, these spaces also get neglected and come face to face with their biggest enemy – moisture.
Moisture Causes Problems
Moisture can lead to mold, wood rot and mildew in the crawl spaces, which can affect the integrity of the home structure and cause severe damage if left unchecked. Moreover, an increase in the moisture content is an invitation to pests seeking a food and water source.
However, there is a way to combat this problem – By encapsulating your crawl space, installing a dehumidifier and at the same time, treating for potential pest infestations or eradicating current ones. Get a professional.
DIY Encapsulations
It is therefore, not a good idea to attempt to do it yourself (DIY). There are many cons with regard to the process. Identifying the issues with moisture takes real professional knowledge. You have to go beyond just recognizing that you have standing water. The moisture in the air can cause an inordinate amount of damage to the wooden structure of the home. This will in turn create a conducive environment for wood-damaging pests and, of course, cause rot and mold. More about that later.
What Is Crawl Space Encapsulation?
Just like human beings use various medications to boost their immunity as a way of safeguarding against diseases, crawl space encapsulation aims to do that with your crawl space. Think of this as an investment in your health and your home.
A professional, in this case, would cover the crawl space with "heavy-duty polyethylene". This waterproof lining acts as a barrier and helps seal the various parts of a crawl space, including, floors, and walls.
The material of the lining helps achieve three things:
Allows for air to circulate through the crawl space.
Help prevent mold and mildew growth.
Help to repel pests.

A crawl space moisture barrier can also help improve the air quality in your home by reducing the amount of dust and other airborne particles that enter the crawl space. This is a great benefit for people especially those who have allergies and asthma.
Why do you need it?
When was the last time you took a look at your crawl space?
We're very confident that you wouldn't be able to remember even one instance. That's how neglected the crawl space is despite being such an integral part of the house. It only takes a few weeks for moisture to set in and cause all sorts of problems.
Crawl space encapsulation is an investment in your property and helps to negate the issues with standing water within the crawl space. It also helps to prevent pests from getting into your home and causing damage or spreading disease, or worse, leading to a full-on pest invasion that could really disrupt the peace and quiet in your house.
The main advantages of crawl space encapsulation include:
Keeps your home safe from Pests: The scourge of every household, pests can cause damage to electricity, HVAC, and other vital wiring. They can also cause damage to the insulation and find their way into the main parts of the house.
Save up to 23% electricity bills: Crawl Space Encapsulation can make your heating & cooling systems work more efficiently, thereby allowing you to make some much-needed savings.
Add Value To Your Home: Believe it or not, crawl space encapsulation can drive the value of your home upward. If for some reason, you need to sell your house, encapsulating the crawl space in advance can be a positive step toward selling the house at a higher rate than you normally would get for it
Pest Control Benefits
What's worse than a moisture-trapped Crawl Space? A moisture-trapped crawl space that's teeming with pests.
Pests can cause all sorts of problems to your crawl space. From eating through the insulation and electrical wiring to finding their way into your house, a pest invasion is perhaps the biggest enemy you can face as a homeowner. Therefore, it's imperative that you swipe right for crawl space encapsulation. Doing so comes with a host of benefits:
Creates a barrier between the crawl space and pests: By lining up the ceiling and floor of the crawl space, this encapsulation prevents pests from entering the crawl space and finding passage into your house.
It also creates an inhospitable environment for those who get in: Crawl space encapsulation traps moisture on the outside and prevents bacteria and other harmful contaminants. If some pests do manage to get inside, they wouldn't be able to find opportunities for food plus the air intake is limited by the polyethylene lining which makes it hard for pests to survive
Why You Should Not DIY your Crawl Space encapsulation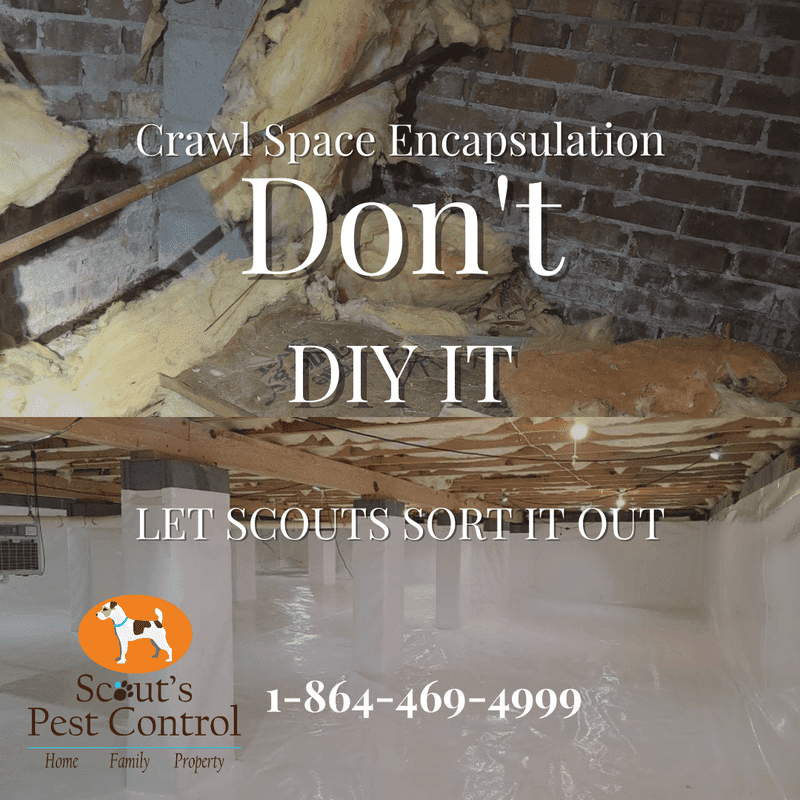 For a lot of homeowners, Crawl space encapsulation isn't a big priority. They view it as an expensive fix that may or may not bear fruit. This is one of the major reasons why a lot of first-time homeowners choose to go the DIY route. However, barring a few exceptions, this little endeavor can turn out to be too costly.
Perhaps one of the greatest issues secondary to moisture is the infestation of wood damaging pests that can damage the structure of the home. You need to have your home free of Termites, and if you do your own DIY installation, you will not be able to treat termites effectively, and you may even miss an infestation that would be right under your nose. This in turn will damage the integrity of the home structure.
There are several drawbacks to DIY'ing your Crawl Space Encapsulation:
No comebacks: Crawl space is a sensitive area and if you make a mistake while encapsulating it, rectifying that mistake can be too costly for you to handle
No guarantees: There are a lot of DIY articles on the Internet, but the truth is no matter how simple they make it look, in reality, it couldn't be any different, so you can't take anything for granted
No one to hold accountable: What's done is done! There's no going back when you make that mistake, and you wouldn't have anyone to blame except you
The Dehumidifier
Should you decide to install your own encapsulation, and you get the requisite moisture barrier. You watch that DIY video on the internet and think "Yeah, I can do that no problem." Job done – right? Not quite, because even though you think you have saved money, and you look at your job with pride, you probably did not realize the moisture in the air was higher than you thought and did not consider a way of removing that excess moisture.
You now have a problem as the moisture will build and degenerate the work you have done as well as still creating a conducive environment for those pests that will eat and destroy your home from the inside out.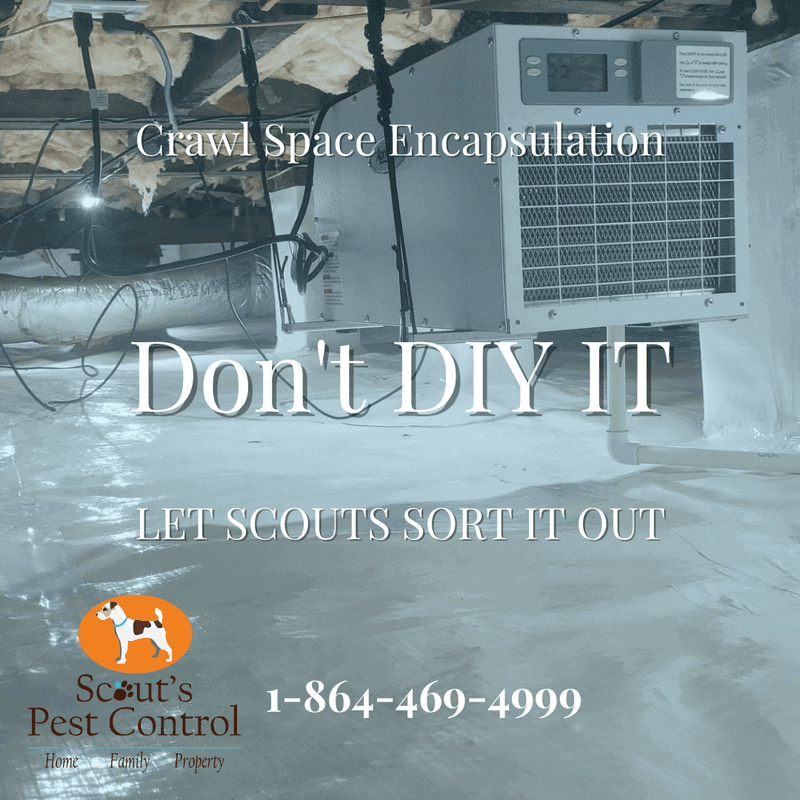 You should have installed a suitable unit to remove that moisture. Of course, we know that dehumidifiers will do the job. However, not all dehumidifier units are created equal. You need a professional who can work out what you need, what unit would suit your crawl space and, of course, the professional installation of it with some form of guarantee.
Scouts Pest Control provides Crawl Space Encapsulation in Greenville, SC
Greenville is known for its humid climate and inclement weather. Often, many homes have a moisture issue in their crawl space and that can attract pests that will cause damage.
Your crawl space needs to be ventilated and treated properly to prevent moisture issues that will lead to pest problems such as termites and ants. DIY'ing your way into this process can cause insurmountable losses. Therefore, it's best to leave it to the professionals.
Call Scouts Pest Control for all of your crawl space/moisture needs and make sure to avail a Free Inspection. We provide customized plans too depending on your needs.