Scorpions are one of the most common arthropods in homes and businesses worldwide. This venomous creature's nature is what makes the scorpion so dangerous. These pests are also known to carry a variety of diseases, which can be transmitted from scorpion to person simply by coming into contact with a scorpion's sting or bite.
Scorpions are venomous arachnids, closely related to ticks, mites, and spiders, and they are native to South Carolina and other states. They can be easily distinguished by their distinctive shape. The area in South Carolina and the environment are conducive to Scorpion survival. Furthermore, your home – especially your crawl space – is more than ideal if untreated.
Scorpions are more likely to enter South Carolina homes in the spring and fall. They can fit through cracks as narrow as 1/8th of an inch. They also prefer areas with trash, bricks, and lumber – your crawl space is ideal. Whilst there are many species of scorpions in the world. The two that are more predominant in our area are the Southern Devil Scorpion, also known as the Carolina Scorpion, and the striped bark scorpion, which was introduced rather by accident.
Whilst they are not as deadly as others; they still pack one massive punch and can cause anxiety, distress, and medical issues.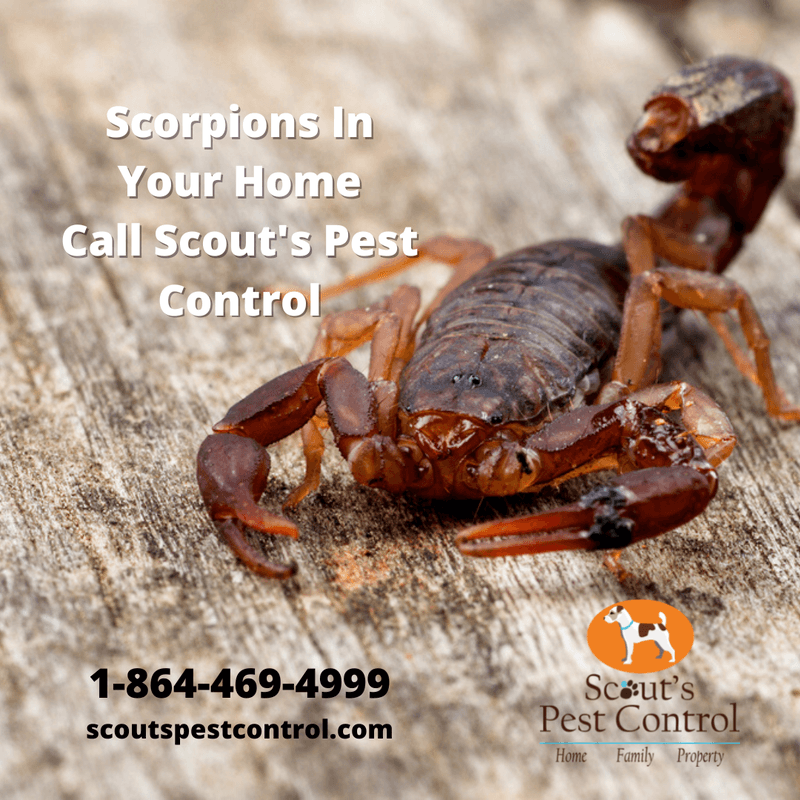 Your Crawl Space
Untreated crawl spaces provide conducive environments. The space is often damp and full of debris, which provides a perfect living environment for scorpions. This type of environment also attracts pests that provide the scorpions with a food source. Given the nature and behavior of these pests, your crawl space should be treated as a preventative measure.
Scorpions Food Of Choice
A scorpion is an aggressive predator that attacks and kills its prey by using its stinger on the tail. Small mammals, birds, and lizards make up the scorpion's diet as well as small insects such as spiders, roaches, and ticks. Scorpions are nocturnal animals that prefer to hide during the day under rocks or logs or in your crawl space.
Stings In The State
For most people in South Carolina, a scorpion sting is no worse than a bee sting. Rudy Mancke, naturalist and co-host of South Carolina ETV's Nature Scene, stated that the Southern Un-striped Scorpion (Carolinianus) could be found throughout the state. In contrast, Striped Southern Scorpion (Carolinianus) can be found along the coast.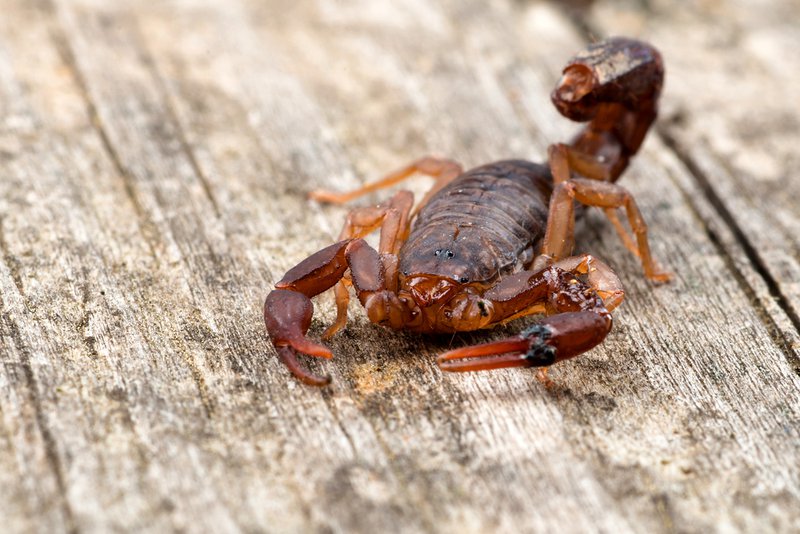 The scorpion has a horrible reputation. "Unless scorpions are threatened, they will not attack humans". You're unlikely to be stung by one unless you accidentally touch it or disturb its habitat. The pain of a scorpion sting is comparable to a bee sting but can cause anaphylaxis. In South Carolina, deadly scorpions are uncommon, with only a few counties reporting more than one scorpion per square mile. North Carolina and Virginia have the highest concentrations. Nevertheless, proper pest control is required as scorpions can invade en masse should the conditions be conducive to survival.
Scorpion stings have become more common in recent years as the population of these arachnids has grown, and we move into their natural habitats. The number of scorpions in South Carolina is unknown, but it is estimated that there are between 100,000 and 150,000 scorpions in the state.
Pest Control for Scorpions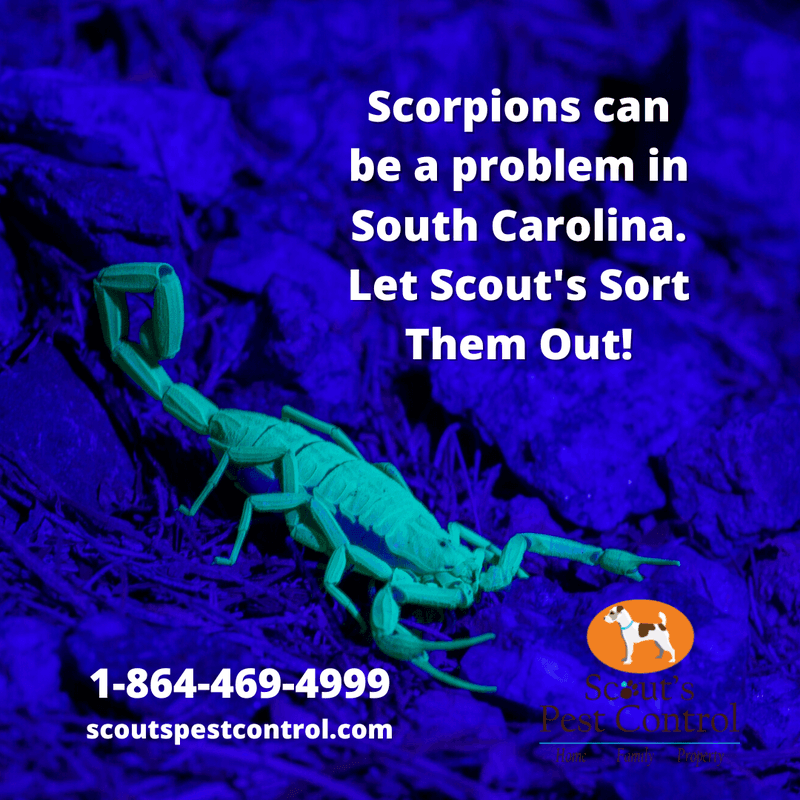 If you already suspect a scorpion infestation in your home— call Scouts pest control immediately. Scouts will not only remove these pests from your property but will also treat any affected areas with pesticides to prevent them from returning in the future.
Whilst Scorpions are common in South Carolina and can be a nuisance for many homeowners, there are no severe cases in the state resulting from stings, i.e. deadly envenomation, unlike snakes. Scorpion stings are known to cause severe itching and pain, so they must be addressed as soon as possible.
Scorpions are well-known for their ability to navigate their way around your house, but they can also be found elsewhere on your property. They are one of the most common creatures on Earth, yet, they have a terrible reputation. In essence, the scorpion can help with your pest control too because of what they feed upon, such as other pests. Nevertheless, an infestation can get out of hand, and our scorpions here in the state pack a sting that can take out a child and cause severe suffering to an adult.
Tips for dealing with Scorpions around your home.
If you have scorpions in your home in South Carolina, there are some things you can do to prevent scorpion infestations.
Remove all trash and debris. This is always a good recommendation since outdoor roaches and other pests on which scorpions prey are also attracted to trashy areas.
Store firewood and lumber off of the ground, and keep it dry
Remove unnecessary rocks
Provide for good runoff of rainwater away from the house
use small gravel as an ornamental ground cover immediately adjacent to the home, rather than any wood-type cover
seal any openings in outside walls with mortar or caulking
screen and weatherstrip doors, windows, and vents
repair or prevent wet areas caused by plumbing leaks, air conditioners, etc
use a dehumidifier in damp basements
Pest Control can assist you by providing a safe chemical solution that will indeed eliminate any scorpions roaming around your home or business. Taking steps to ensure your crawl space is properly treated and encapsulated negates the environment needed for scorpions to survive.