Around 95% of houses in the US have crawl space, and almost if not all, of them, have problems regarding mold growth and increase in humidity. Crawl spaces also became a haven for insects, termites, and rodents.
South Carolina has a perfect environment for pests within a crawl space, but more importantly, it's the moisture that drives it.
To manage these potential costly problems in your home, Scout's Pest Control offers crawl space encapsulation services. Moreover, if you do not know what benefits lay before you when you encapsulate your crawl space, then read on.
Here are the ten significant benefits of crawl space encapsulation.
Below you will find a list of a number of significant benefits that will give you an overview of the benefits of crawl space encapsulation.
1. Reduces humidity even without a dehumidifier.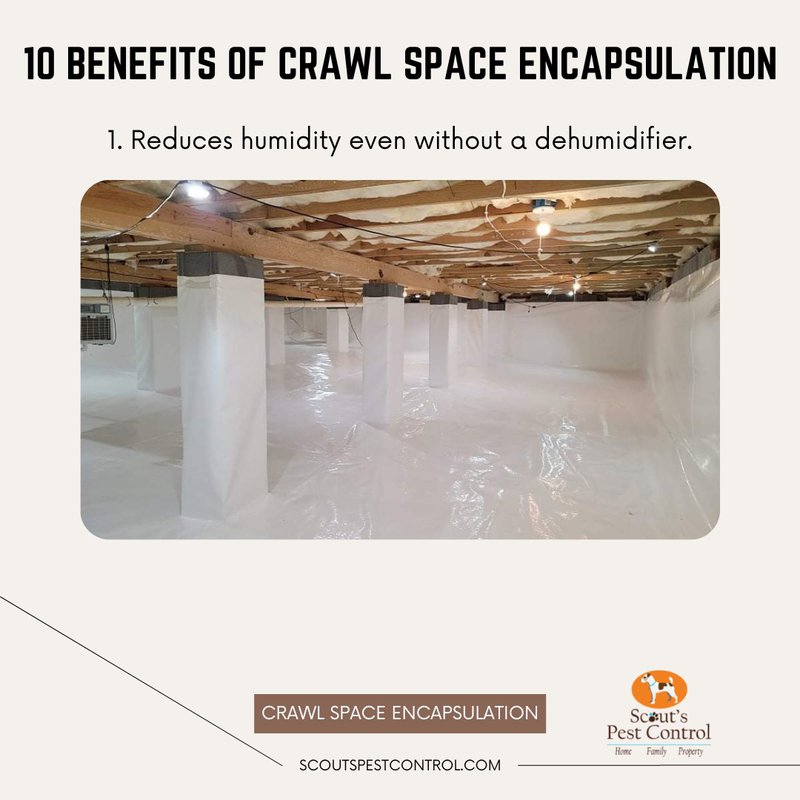 On top of the list of crawl space encapsulation is helping to bring down the humidity level of your home. One of the major concerns of homeowners is humidity because high levels of crawl space moisture can lead to fungal growth, mold, and wood rot. It can also attract pests to your home. Fortunately, encapsulation can provide a moisture barrier and ventilate your crawl space to prevent moisture buildup in your house.
2. Keeps away pests in your home.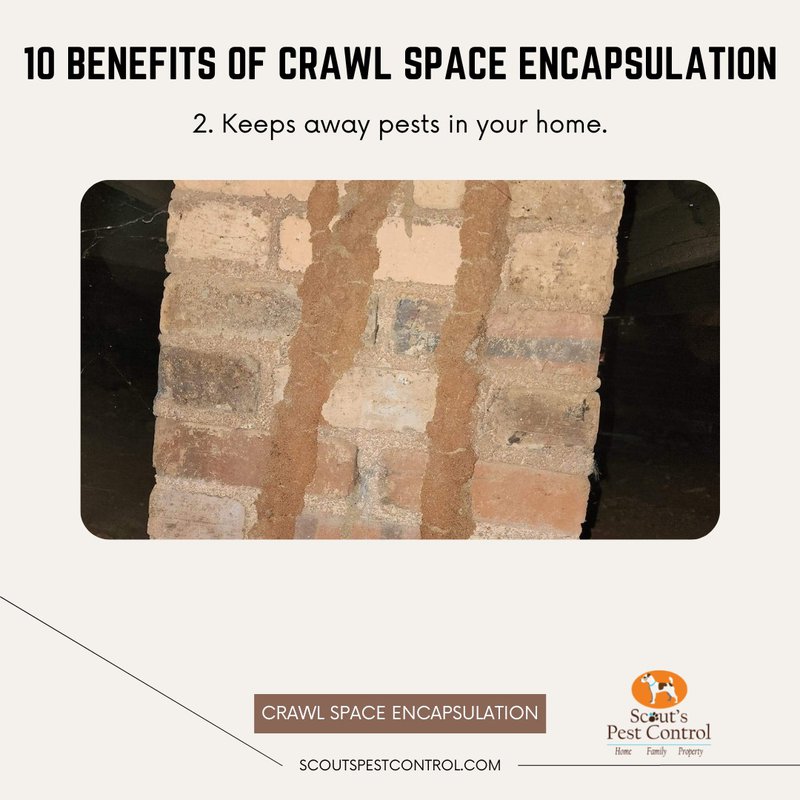 Crawl space encapsulation serves as a shield to your home. It adds a protective layer against vermin, pests, termites, insects, and rodents. These pests, if access is gained to your home, can cause tremendous damage.
When your crawl space is properly sealed, it seals the area and makes it very difficult for these creatures to get into your home and damage it. It further negates the environment needed to procreate.
3. Reduces your heating bills.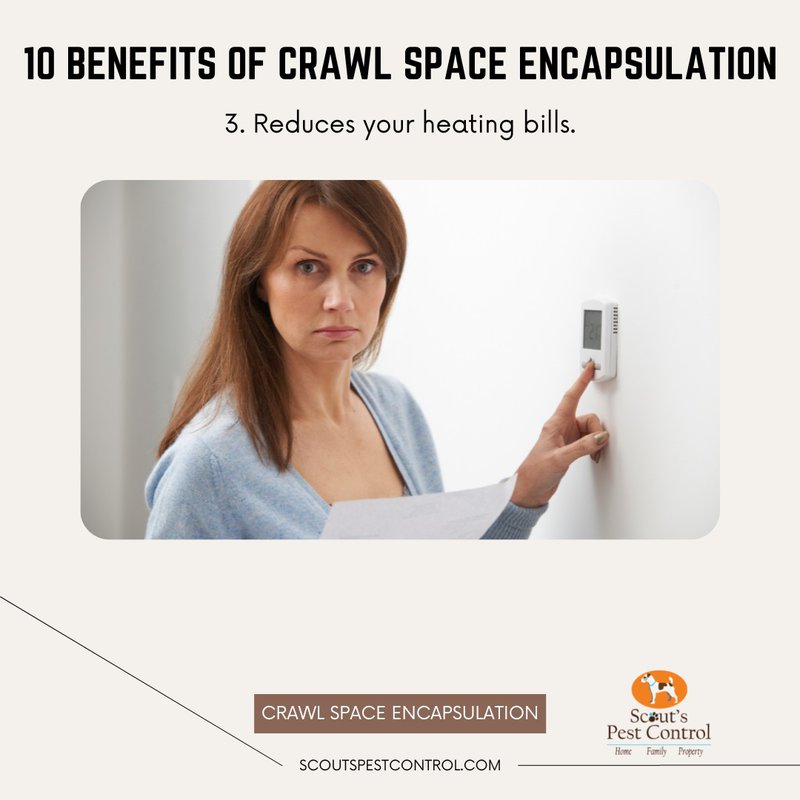 Crawl space encapsulation lowers your heating bills if your HVAC ducting is on the ground or under your house. How will it help? Simple, it seals this area; therefore, you will have less outside air circulating in your crawl space. Less outside air means better insulation, thus providing more warmth in your house, especially from the flooring during winter.
4. Provides cleaner air at home.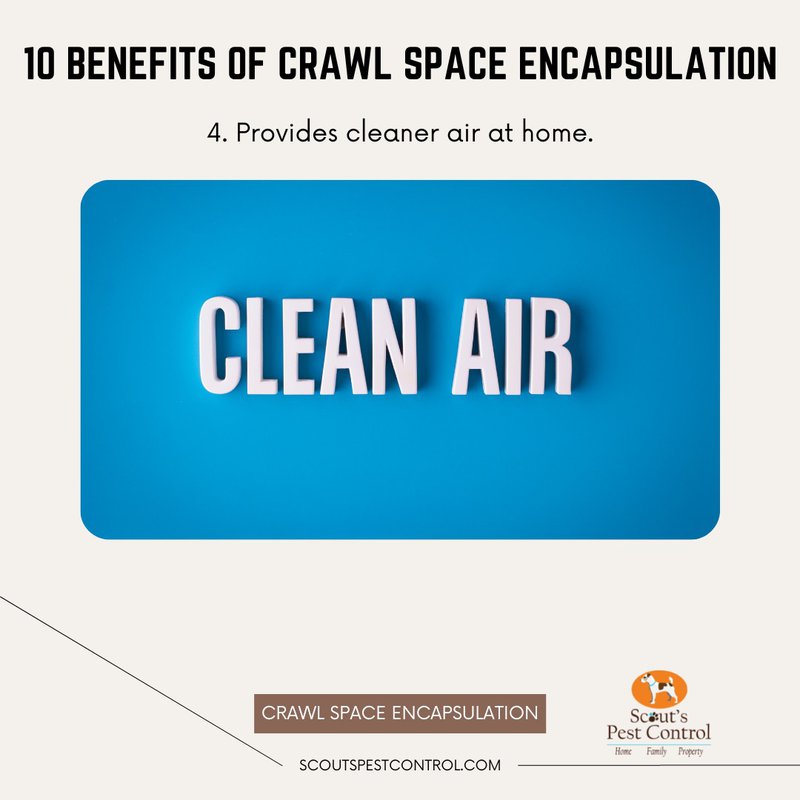 Did you know that most of the air you breathe at home is from your crawl space? So, to ensure that you breathe clean air and avoid allergen triggers, you need to protect that area so that the air you breathe can be good quality. Crawl space encapsulation makes the area clean, dry, and healthy after installation.
5. Eliminates foul odors.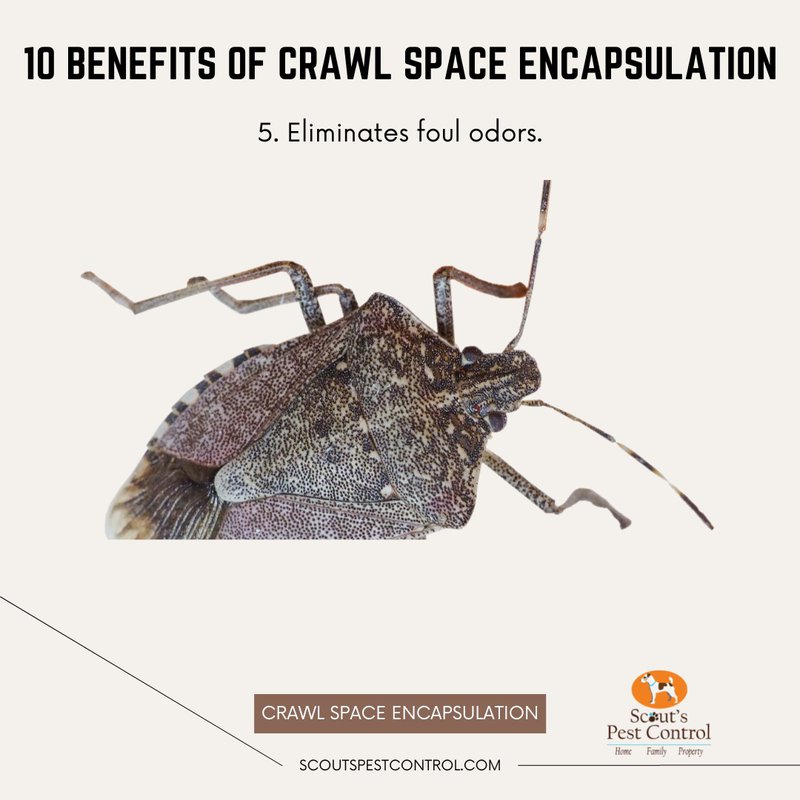 Ever wondered where the bad smell comes from? The crawl space, of course. Encapsulation service includes cleaning your crawl space; this will ensure that no specks of dirt, molds, and other things that might cause stinky odor in your home are in the crawl space before sealing the area. This process will also help repel mildew, molds, and pests.
6. Allows easy installment of radiant heating.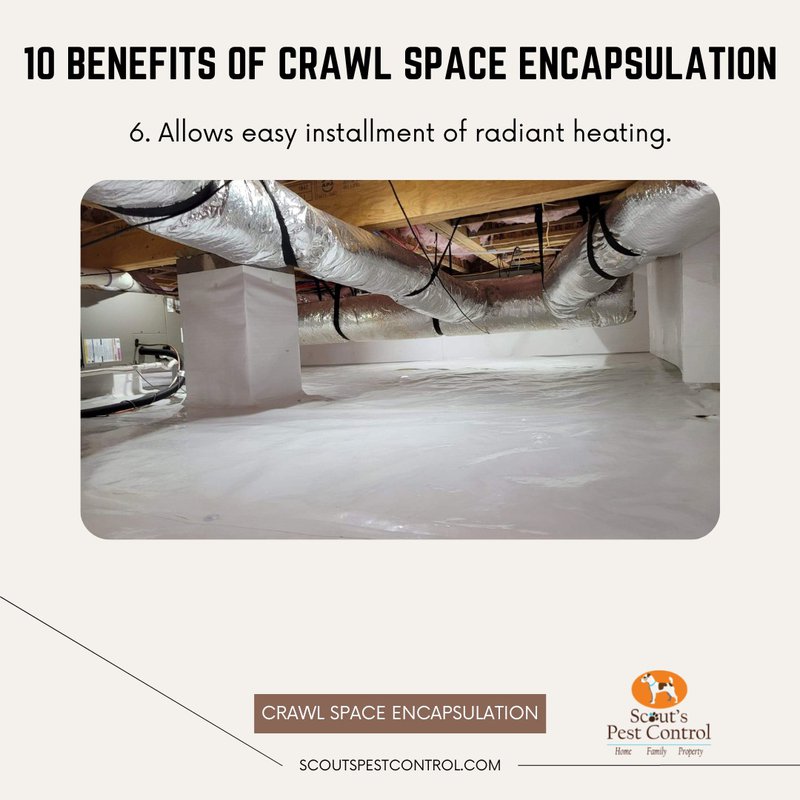 Radiant heating might be costly to add, yet its benefits are tremendous and more homes are opting for this form of heating and energy. However, if you already have an encapsulated crawl space, you may get a discount on the installation. Service providers will have less time to install radiant heating, thus less cost in labor fees.
7. Provides additional storage for your home.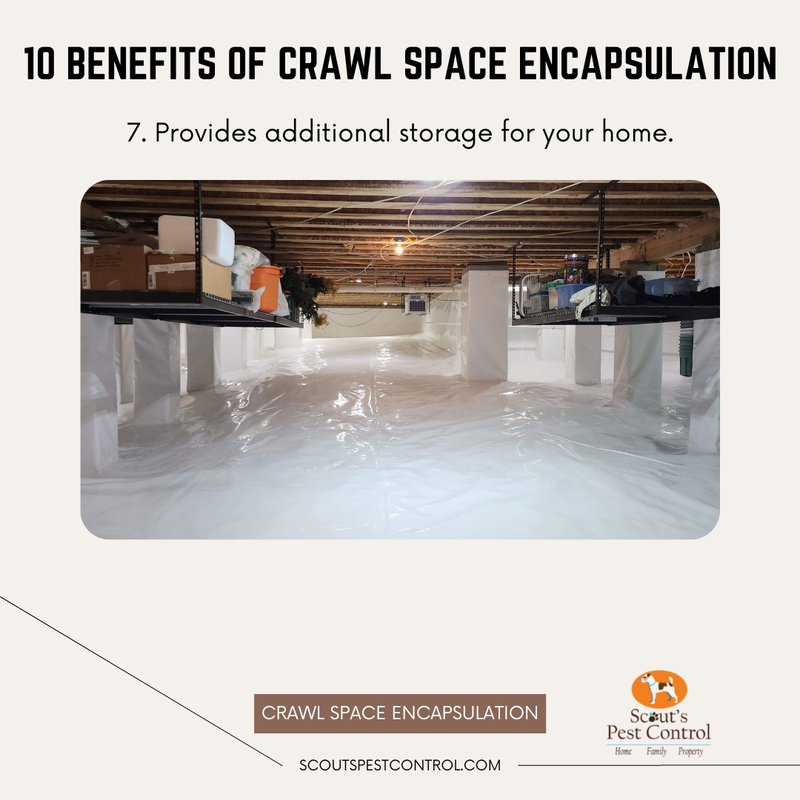 Encapsulation is a sanitary measure that will ensure a clean crawl space. This area can become extra storage for your things, such as containers, tools, or anything you like, and the crawl space is perfect for storage because of the low humidity. It will also cut costs on storage fees as you will no longer require separate storage for your items.
8. Reduces Mold Growth.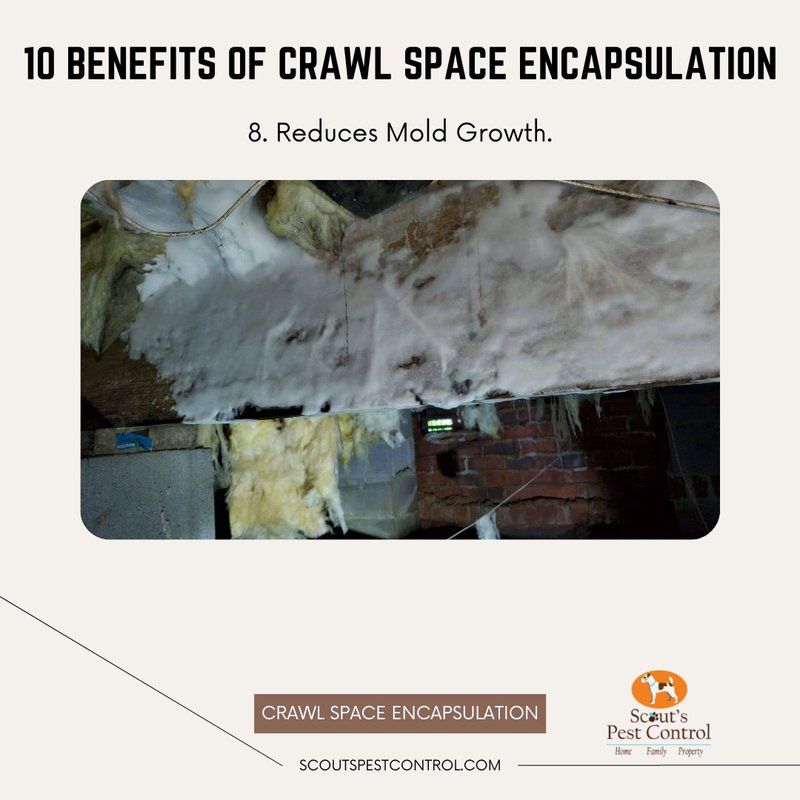 Crawl spaces are dark and damp spaces underneath your home. When vermin, termites, and molds invade it, it can become worse. It can cause wood to rot, which will invalidate the integrity of your home, and will cause unpleasant odors. During crawl space encapsulation, installing a "moisture barrier" will keep the area dry, preventing pests and molds from spreading in your crawl space.
9. Promotes Energy Efficiency in your home.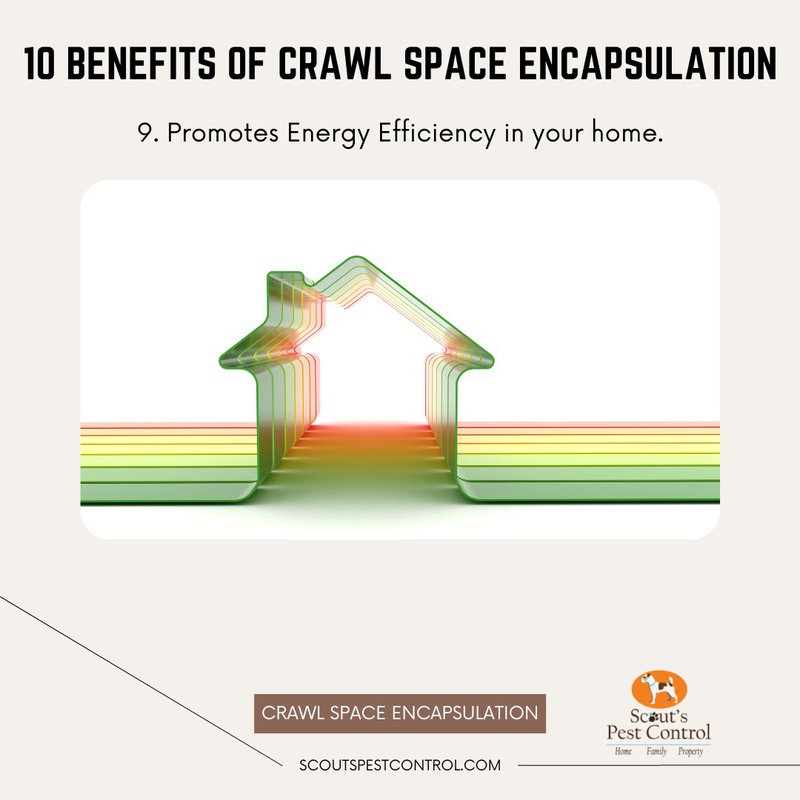 Since encapsulating your crawl space lessens humidity in your home, your HVAC system also reduces energy consumption. Less energy consumption, but still more efficient. How? Its encapsulation provides extra-duct insulation and places your HVAC System in a conditioned space, thus, enhancing the lifespan of your HVAC.
Also, it helps your home equipment last and provides long-lasting protection.
Crawl space encapsulation helps keep up the optimum quality of your home. for example, dry framing aids in keeping your floors strong. Remember, moisture weakens wooden floor framing, so we must keep it dry throughout. Your HVAC units will also last longer because of the decreased strain. Fewer hours of work equals a more extended period of usage.
10. It can make your house more "sellable."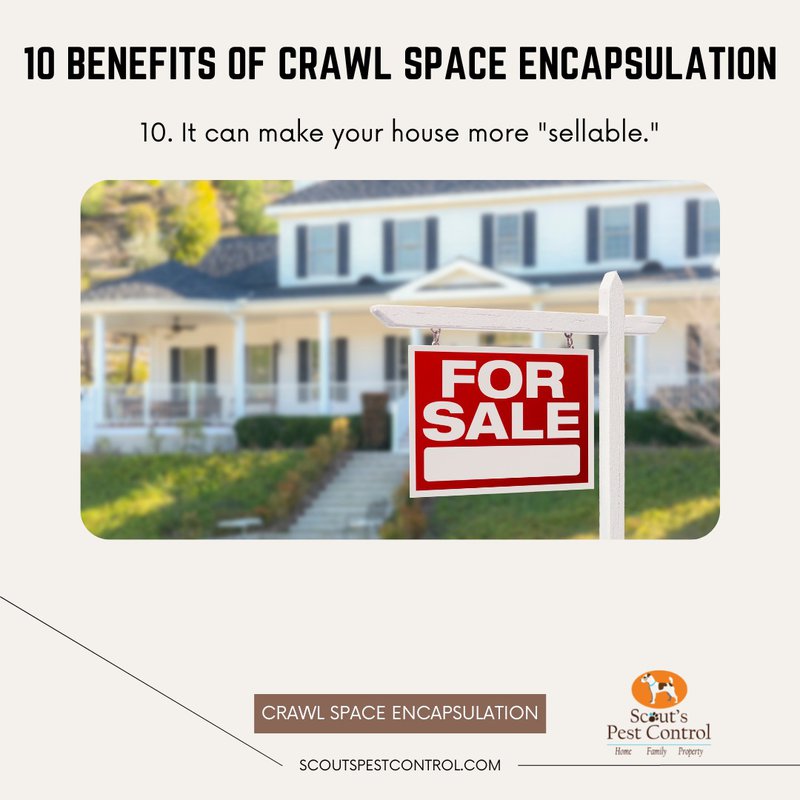 When you are planning on selling your house, one of the reasons buyers look into is the structural integrity and comfortability. Crawl space encapsulation can provide you with that.
Encapsulation can reinforce the structural integrity of your house. Excessive moisture is a problem in every place, it will not just damage your flooring, but even the structural foundation of your house can be weakened if it is not properly managed. Pests and termites will also make these foundations their home, which can cause problems in your house.
Crawl Space encapsulation provides comfortability in your home. Because it works as insulation, you can now say goodbye to freezing floors in the winter, and it won't be so hot in the summer.
Final Thoughts
Are you still trying to figure out if crawl space encapsulation is for you? Scout's Pest Control is here for you. We offer you a free crawl space inspection. From that inspection we can guide you with the best practices needed for your home.
With these benefits, crawl space encapsulation is indeed a solid investment. We offer you quality services at an affordable price. We assure you that we will only install high-quality materials for your crawl space. Book your encapsulation service now.