This is why you need a Crawl Space Vapor Barrier; If your home is built over a dirt floor crawl space chances are pretty good you have some excess moisture. This is especially true in the Greenville, SC area since we experience frequent rainstorms, especially in the spring and summer. But humidity levels around here can be high year-round. Water runoff underneath a home is another common concern, which must be corrected before installing a crawl space vapor barrier. There are major health concerns that come with standing water and penetrating water in terms of mold and decay and poor air quality.
A crawl space vapor barrier consists of thick sheets of commercial grade plastic installed over the ground underneath your home. However, one thing to not is that not all barriers are equal and whilst it may be tempting to use the cheapest, there are a lot of other considerations. These sheets cover the exposed soil and are sealed to the foundation walls. They are not attached to the flooring joists. When installed properly, vapor barriers can easily correct the following problems.
Vapor Barrier Benefits
Reduced Moisture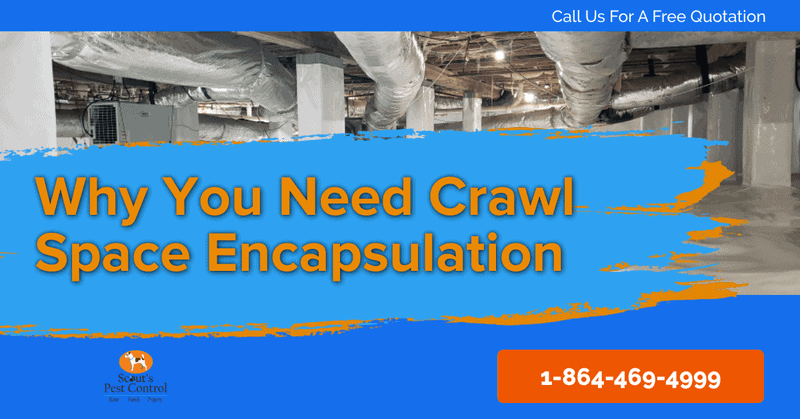 Standing water on top of a dirt floor creates the perfect environment for certain species of pests. It also attracts rodents, and is a Petri dish for growing mold and mildew. Many insects prefer a damp environment and when it comes to termites, standing water often causes structural damage to the wooden foundation piers and floor joists making their work easier. Even without termites, wood that is exposed to frequent moisture can become warped, moldy, and eventually begin to rot.
Reduced Energy Costs
Some studies show that 15 to 20 percent of your home's heating and cooling costs are lost below your home. Crawl space vents draw cold air in during the winter and humid air in the summer, making your HVAC system work harder. Installing a vapor barrier slows or in some cases prevents ground moisture evaporation into the crawlspace, which in turn can make your home more energy efficient. Removal of crawl space vents for encapsulation further helps. Installing a vapor barrier is a long term investment that can yield good returns on that investment negating the costly effects of replacement HVAC or Wood damaging pests and the like.
Reduced Mold Likelihood
Mold. In many cases mold is an insidious unwanted guest that is not discovered until there is a major infestation. No matter when uncovered this can be troubling especially if you're in the process of selling your home, as a mold infestation can impact your home's value tremendously. Mold can also cause long-term health problems including chronic respiratory illnesses, eye and skin irritations, and in severe cases mycotoxin toxicity. A crawl space vapor barrier reduces surface water from a plumbing leak, a sloping yard, overflowing gutters, heavy rains or snow, or excess condensation, which in turn reduces the chances of mold developing. There are several types of mold and some are far more toxic than others. It is important to have a mold specialist test the mold if you suspect it may be black mold that is highly toxic with the mold spores in the environment. A Crawl Space Vapor Barrier will help to stop the dangerous mold and decay from starting. Get a free crawl space inspection today.
Not sure what's going on in your crawlspace? Scout's Pest Control offers several moisture control and remediation solutions including French drains, vapor barriers and crawlspace encapsulation. Please connect with us online or call 864-469-4999 today to schedule an appointment or for additional information. Your crawl space inspection is free, just click the link below.