Pests that cause structural damage to your home are a nuisance that you should get rid of as fast as you possibly can. We all understand that termites, which are especially prevalent in South Carolina, can cause serious damage to your home. However, one other example of pests that cause damage to wood found in your home is the house borer beetle. It is equally a troublesome pest and though relatively uncommon these days, is still found in the area and causes severe structural damage to the home.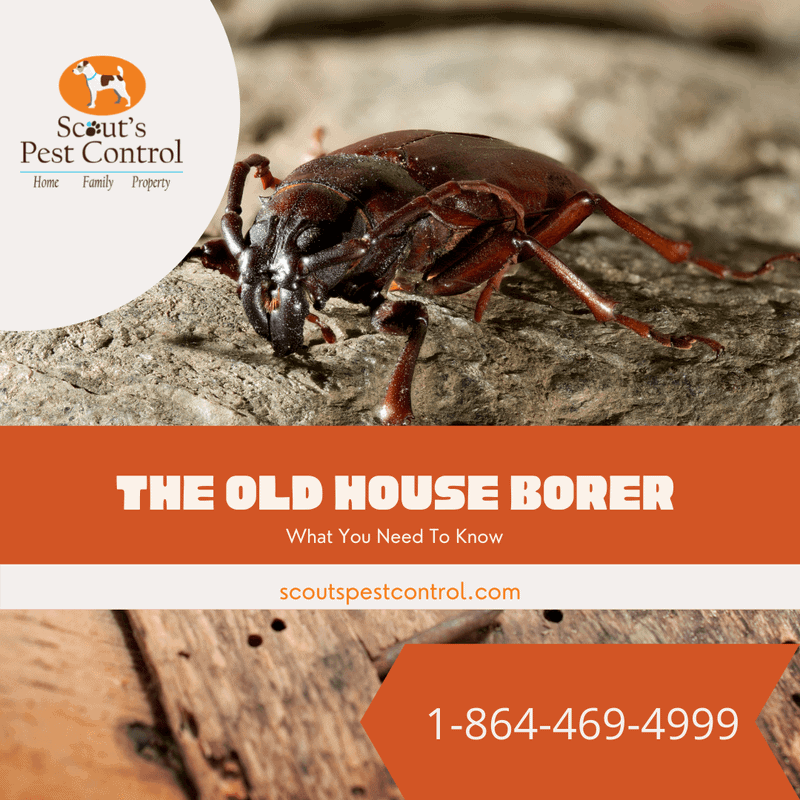 Old house borers can infest in a relatively short space of time and cause substantive damage. The adult lays eggs and cracks and crevices, making this beetle quite the hide-and-seek champion. As their name infers, these old house borers are normally found in older houses. That of course, means they are prevalent here in the deep south due to our historical landmarks and older architecture. However, new homes are just at risk as the older ones. Primarily, this is due to the beetles infesting lumbar that is used in newer homes. Leaving any infestation of wood-boring beetles can leave your home exposed to damage, and this eventually leads to costly house repairs.
How do wood-boring beetles enter your home?
Old house borers are categorized into two groups and you can differentiate them based on what they feed on. One type of wood-boring beetles bores on coniferous woods such as pine, while the other opts for hardwood like lumber.
These long-horned beetles are responsible for causing structural damage in your home and are often unnoticed. Unlike other pests that you can easily perceive, wood-boring beetles can infest your home even when you don't see them inside. There are subtle tell-tale signs that you can look out for. Check the video below;
You might not be aware of it but some long-horned beetles and their larvae can invade your home when you bring in firewood and lumber. Open windows and doors are also culprits, as they serve as open entryways that allow pests to come inside. Then the cycle begins.
Life cycle that triggers an active infestation
A house borer beetle may be small, but the potential structural wood damage it can cause to your home is huge. Newly cut wood for firewood can be a favorite hiding place of house borers. Examples of wood that serve as breeding grounds for eggs and larvae of house beetles are spruce, pine, and fir.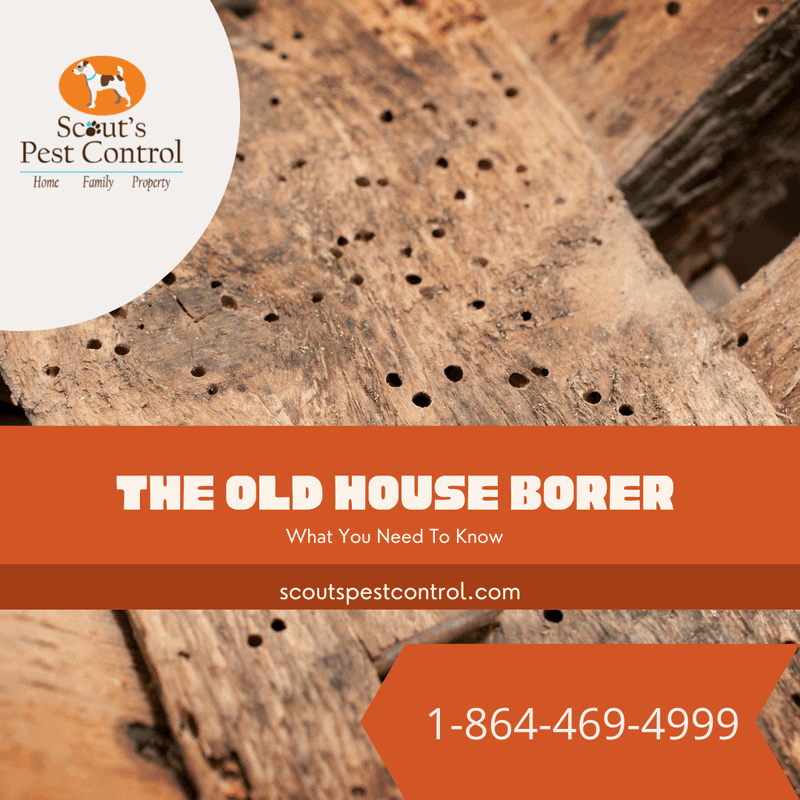 It isn't just the adults that cause extensive structural wood damage. The problem begins even in the earliest stages of a pest's life cycle. Female house borers are fond of laying their eggs in small cracks you can find in wood stacked in your house or in your yard.
They leave eggs in cracks and holes that hatch into small larvae that feed on pieces of wood. These larvae are only about an inch long as they mature, and such insects spend a long time in their larval stage
Grown house borer larvae that transform into adult beetles live near the wood surface. During this period, adults will chew their way out of the wood in homes in time for mating season.
Wood-boring beetles chew on the wood surfaces at your home from their beginning stages as larvae until they fully grow as adults. This life cycle of borers shows that in all the phases, your home is at risk of an active infestation.
Potential old house borer damage you need to deal with
Long-horned beetles destroy your home over years — especially when they are unnoticed. Given the fact that they hollow out wooden structures, you can expect limited damage at first, especially when you're dealing with only one generation of beetles.
However, as time goes by these old house borers multiply and re-infest other parts of your home. Once they feed on softwood, you can expect the damage to worsen. At this point, structures made of both hard and coniferous wood already have an active infestation.
A house borer beetle re-infestation occurs mostly when there is about 15 to 25% of excess wood moisture. In this case, you can expect your wet crawl spaces and basements to harbor not just mold and mildew but also house borer infestations at home.
As a result, the wood in your home begins to fall apart because it can no longer fully hold the weight of your other home structures.
Factors that affect old house borer damage
The first thing you need to know about is how the beetles' damage to your home and the extent of the potential damage. Are you just dealing with a few floor boards or would you need to get rid of pests in your attic framing? How about if they have infested the crawl space and begin to damage the very structure of the home's integrity.
Next, consider the conditions of your home for larval growth. Is it too humid inside your home, is there too much moisture in your crawl space? Remember, humidity plays a huge role in making the pests survive inside your property.
Humidity adds to the moisture of wooden surfaces and structures. Thus, these surfaces have high moisture levels that become more appealing for house pests like beetles and termites. Negate the conditions required for survival and you reduce the risk.
Professional surface treatment for pest control
Once you consider these factors, you'll know if your home is prone to infestations of any kind of wood boring insect. If these conditions are present then contact Scouts Pest Control for a free inspection and to find out what your possible options are and how extensive the damage seems to be. We thoroughly examine structural timbers and seasoned softwoods in homes before we conduct any surface treatment to fight off any signs of infestation. However, one way to combat all of these pests and to ensure you do not have the conducive conditions needed for an infestation is to have your crawl space encapsulated.
Contact Scout's Pest Control In Greenville Sc today to learn more about our treatment solutions to get rid of any old house borer infestation and to book a free crawl space inspection.