Bed bugs are pests that can destroy your homes and make you feel uncomfortable while sleeping. The bed bug population increases quickly. Getting rid of bed bugs can be tricky, but is it possible to entirely exterminate all pests you see at home?
Bed bugs are tiny insects that usually grow five millimeters in length. They linger in your beds, and you don't easily see them unless you spend hours looking for a bed bug infestation.
Just like insects like cockroaches, bed bugs can cause humans itching and leave red bites on the body. They lay many eggs, which can spread easily around different places of your home. Soon, you have to get rid of furniture and other belongings due to the infestation.
The reason bed bugs won't go away
An insect infestation isn't challenging to eradicate once you have identified the bed bug's breeding grounds. The success of eliminating bed bugs comes in varying degrees. It will depend on the intensity of bed bug infestation in the affected areas.  There are different approaches to killing bed bugs, and these include heat and chemical treatments.
How do you prevent bed bugs from returning to your home? Bed bugs won't be able to survive extermination once you do the procedure correctly. However, if you miss killing some during the operation, bugs after treatment can lay eggs. You'll have to deal with the infestation again. Bed bugs can infest a home in a matter of weeks and the life cycle of the bed bug is only a 7 week window from baby to adult.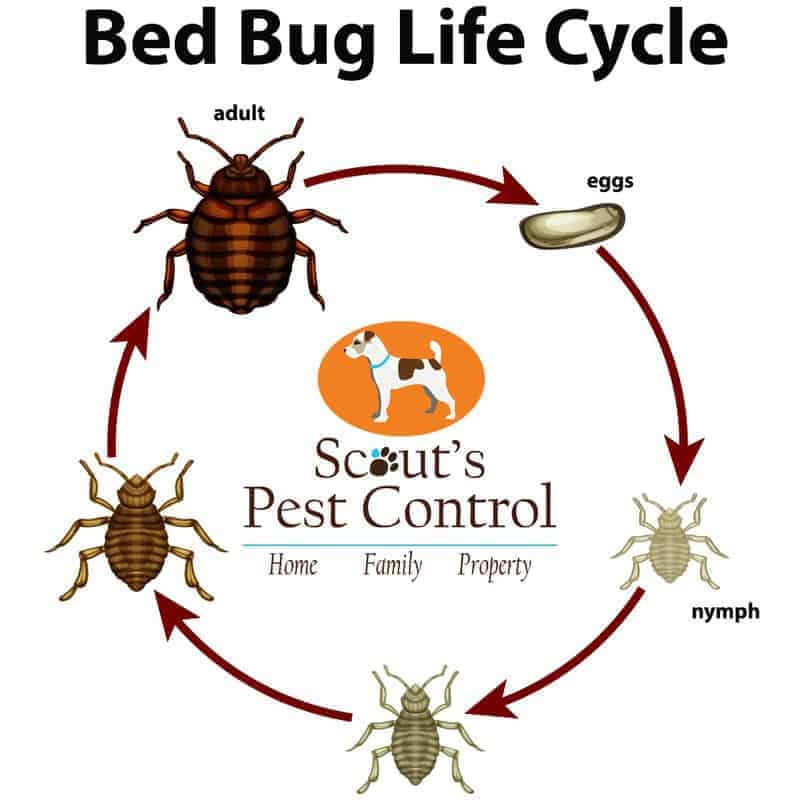 Heat treatments
Heat treatments are considered safe and effective. Bed bugs cannot last long when the temperature is too high. Exposing them to scorching temperatures will kill them immediately.
Many owners consider using heat treatment for extermination. The procedure is eco-friendly and will cost you less effort, and you can observe positive results in a shorter period. It also sanitizes your space, which reduces the risk of diseases and allergies.
One factor that you may find challenging with bed bug heat treatment is its cost. There are cases where you might also see accidentally melted items left during or after the operation. Furthermore, heat treatment unless done by a professional runs the risk of you missing areas and therefore causing further infestation.
Chemical treatments
If you don't have a budget for heat treatment for bed bug infestation, you can opt to use chemical treatments. Chemical treatments are a cheaper alternative, but the results can take a long time unless it is carried out by a pest control company that specializes in bed bug infestations such as Scout's Pest Control.
How to get rid of bed bugs at home
Here is some tips to get rid of bed bugs at home using these steps to Exterminate pesky bed bugs. These can work as a DIY bed bug treatment if the infestation at your home isn't severe.
1. Spot all affected areas. Bed bugs thrive not only in beds or walls, so a thorough inspection is necessary. You'll know that there are bugs around if you can see dark spots. These spots can be any of the following examples:
· residue of dead bed bugs
· Red stains
· Tiny yellowish bed bug eggs
You can use a flashlight or lens to spot the stains. Once you have caught some bed bugs, you can put them inside in a jar filled with rubbing alcohol. The solution is a guaranteed means of killing these pests.
2. Bed bugs linger on your walls. Move the bed away from your wall. Doing so ensures that bed bugs on the wall don't move to your bed. Apply petroleum jelly on your bed frame and legs so the bed bugs won't crawl their way up to your mattresses.
3. Bed bugs usually look for hiding places such as crevice, traps and joints. Seal these areas to avoid them from lingering and making these spots their breeding ground.
4. Clean infested areas and surfaces with a vacuum. Place the dirt and debris you collected in your vacuum in sealed plastic before throwing it away.
5. Laundering bed bug-infested items and belongings like clothes, shoes, bedsheets, mattress covers, and linens with hot water helps. Once done, place these inside the dryer for 30 minutes at the highest temperature.
6. If non-chemical treatments don't do the trick, you have the option of a pesticide treatment for bed bugs. A pesticide product costs cheap so you can buy extra ones for a follow up treatment.
7. Track any infested location from time to time. As a follow up treatment, make it a point to check the spots once a week because eggs hatch quickly.
Calling for professional help
Obviously, not all DIY solutions to exterminate bed bugs will work and they can be difficult for any property owner, especially when there is no follow up treatment. This can cause bed bugs to return. Calling a professional pest controller is the best way to ensure the effectiveness of the extermination.
Pest control companies specialize in getting rid of bed bugs, even in areas that are hard to reach. At Scout's Pest Control, we find the infestation at your home and provide you with expert advice before we proceed with bed bug control treatment. Scouts Pest Control is an expert pest management company committed to making your home free from bed bugs. Call us today to book an appointment.
Bed Bug's Can Survive
In conclusion, bed bugs can survive extermination, but that is more to do with the operator or the person trying to carry out bed bug extermination. The reality is that you should really leave it to the pest control professionals who can also follow up and ensure your bed bugs are exterminated. If you are not a pest control expert, you will undoubtedly miss some of the infestation, you have to understand that life cycle and how to interrupt it.