When groundwater seeps through foundation walls, it can damage structures that support your home, then your home begins to crumble due to the immense amount of force placed upon the structure with weakened foundations. If you experience this, it is high time to have crawl space repairs done at your home with the right foundation repair company. However, most issues in the crawl space can be attributed to moisture and standing water in your crawl space. That's when you need crawl space encapsulation, and early detection can save you on further foundation repair.
What happens when water gets into your crawl space?
When gutters get clogged or if there are no gutters at all, water flows towards your home because of the environment or flooding. You should ensure that water flows away from your home every time it rains or there is a large amount of water in the area or you are in a high water table.
To make things worse, there are other factors such as erosion and sloping of the yard. All these factors contribute to poor drainage, which causes water to settle around the foundation walls of your home. Another reality that is often missed is when you have ice, or even snow that creates water in areas where there may not be any sufficient drainage.
Your crawl space needs to be dry and ventilated adequately at all times. If water seeps in and stands for a long time, you will experience the following crawl space issues:
· Mildew and mold growth
· Musty odor
· Rotten wooden structures
· Pest infestation
· Fallen or soggy insulation
· Pipe condensation
· Open vents
· Wet concrete floor
There is a right way and a wrong way to ventilate your crawl space.
Water damage
Once water seeps through the foundation walls, you'll end up having standing water inside your crawl space. Once this occurs, it poses a problem since it can cause mildew, mold, pest infestations and increased humidity.
Structural damage
Standing water causes wooden structures to rot. Thus, it weakens the support for your home. You might notice there are uneven and sagging floors as well as doors and windows that keep on getting stuck. This is a sure sign that you have erosion issues and you should immediately inspect your crawl space.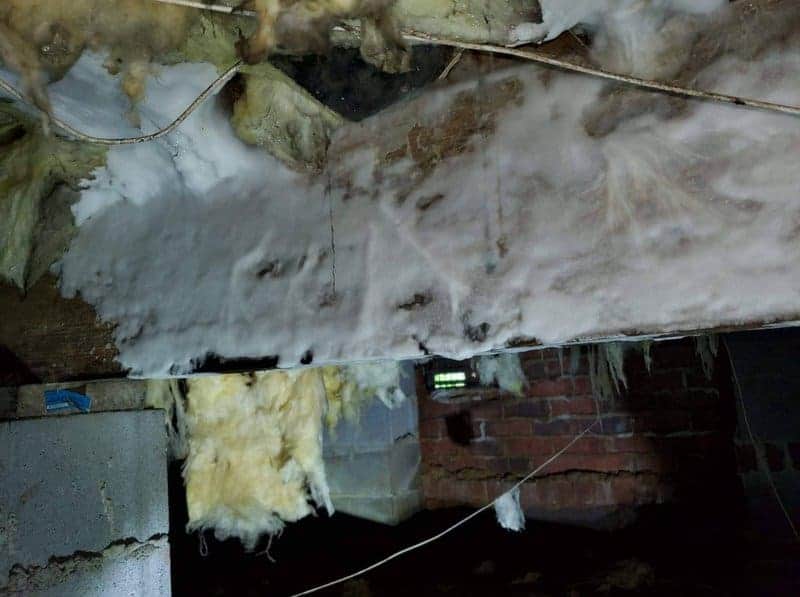 Health problems
The problems don't end with structural concerns, as the health of your family gets compromised when the humidity can reach the upper floors of your home and cause musky odors. It compromises indoor air quality, as the hot air under your home rises and moves to the upper levels. This is just one more reason to have crawl space repair become a priority.
Methods for Crawl space repair
It is best to consult professionals who conduct the following time-tested space repair services:
Waterproofing With Crawl Space Encapsulation and French Drain Installation
Crawl space experts use a drainage system to ensure that water from the space gets directed to a sump pump. The sump pump system then pumps the water out of your home. A sealant is applied to the foundation walls and downspouts are also unclogged. This ensures that water flows away from your home, thus avoiding groundwater from entering your home.
Crawl Space Encapsulation
Humidity caused by moisture is one of the critical issues, and this is where encapsulation is necessary. Crawl space encapsulation uses a thick, durable, and waterproof material to act as a space vapor barrier. It fights off mold and mildew by lining your floor and walls and separate them from the soil. Sealing the area involves the closure of crawl space vents to keep groundwater and outside air from entering through your crawl space walls.
Insulation
Wet crawl spaces cause your insulation to fall off, so crawl space experts replace the insulation with a better more suitable treatement that also repels pests like termites. The material used is resistant to moisture and mold growth, unlike cellulose or fiberglass. A foam insulation board also works as an insulation panel. Some crawl space insulation panels even have the added feature of having termiticide to fight off termite infestation and wood rot. It is best to consult with your local crawl space company such as Scouts Pest Control to find the right solution for you.
Dehumidification With A Crawl Space Dehumidifier
Make sure that the mold and mildew have been removed before Installing the dehumidifier. A crawl Space dehumidifier cleans the air by controlling moisture and reducing odor that can breed mold. Conditioning the air ensures that the air doesn't get trapped and turn musky. Foul odors trapped underneath your home rises to the upper levels, so you need to address the excess moisture. Only dehumidification can ensure that you won't be exposed to health risks such as respiratory illnesses, eye irritation, and allergies.
Stabilization
The joists weaken because of moisture, and the support posts that are too damp won't be able to fully support the upper floors. Rotten wood structures are the root cause for bouncy floors and unstable columns, and this calls for foundation repairs. Crawl space contractors stabilize the support system by using galvanized steel jacks to replace the rotten wood. Girders with strong shims are also used to reinforce strong support. The new support system lifts the bouncy floors and sagging floor joists to ensure that they levelled well.
Professional repair solutions
There are multiple DIY crawl space solutions available online, but you can consider some tips as bad advice. When done incorrectly, DIY solutions can do more damage instead of good. Instead, you need experts to inspect your entire crawl space to find the best repair solutions.
Scout's Pest Control is your trusted partner when you're looking for crawl space repair Greenville SC. We are committed to providing crawl space repair solutions to ensure a dry crawl space at your home. Contact us today for a free crawl space inspection and to get a space repair quote.