Crawl spaces are notorious for being damp — especially when they are the last thought on one's mind. When there are conducive conditions like dampness and water that cause inclement changes, that is the cause of fungi, wood rot, and mildew that settles below your house and begins to cause serious damage to the structural integrity of the home. When left unchecked, the dampness can cause havoc to your health, and attract pests that will not only damage the home, but spread disease.
Installing a dehumidifier will help to negate these issues by removing the conducive conditions. Let's look at some major benefits of having a dehumidifier installed in your crawl space.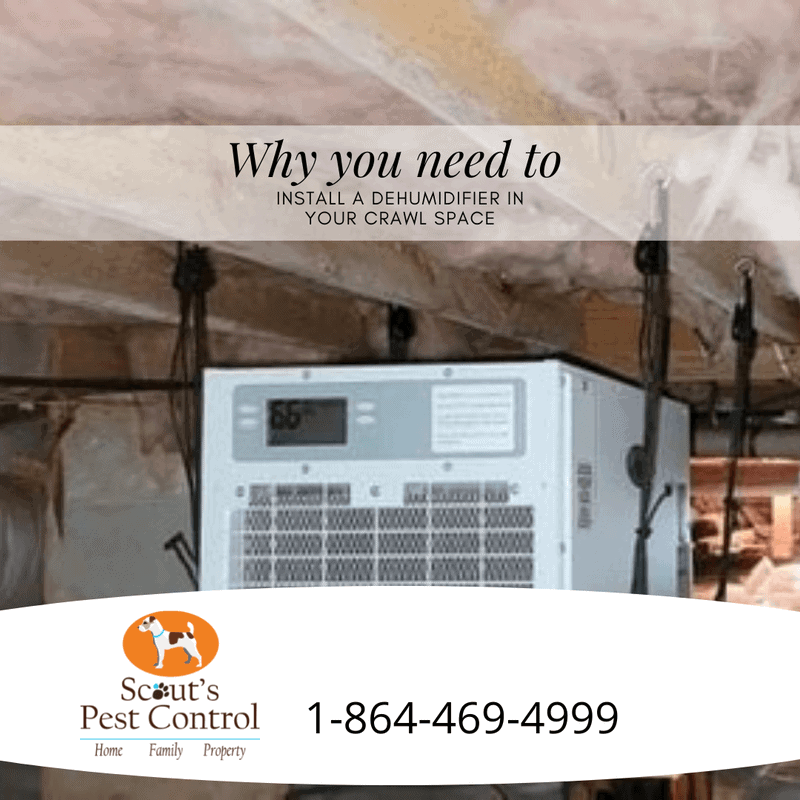 Install a Dehumidifier to Avoid Pest Infestations
Insect infestations can be dangerous for your health as they carry dirt, germs, and disease into your house. If you offer the right conditions for pests to survive, such as a damp, humid crawl space, the chances of becoming infested with pests is incredibly high. The reality is that most of these will come from that crawl space you have neglected.
Types of pests that might find a home in your crawl space
Cockroaches, silverfish, centipedes, and earwigs live in damp places. These insects need more humidity to survive and in damp areas where they get optimal survival chances. They breed and multiply quickly. Their nesting spaces have thousands of insects living in them, while you may see only a few, occasionally inside your home.
Termites, carpenter ants are the type of pests that thrive in these damp conditions. However, what makes them formidable is the fact they will literally damage the structural integrity of your home.
Installing a dehumidifier in your crawl space will help keep these infestations at bay because it helps to keep the crawl space dry by removing excess moisture in the air. If there is no food or water source, it is less likely to attract pests.
Increase The Life of Your Property
Among the most common causes of wood damage is due to fungi, dampness, and insects such as termites. The likelihood of wood rot increases when the crawl space of your house has a high humidity level. When the moisture content in the wood reaches 28%, crawl spaces with improper air circulation can have a humidity level of as high as 75%. This can happen at any time during any season.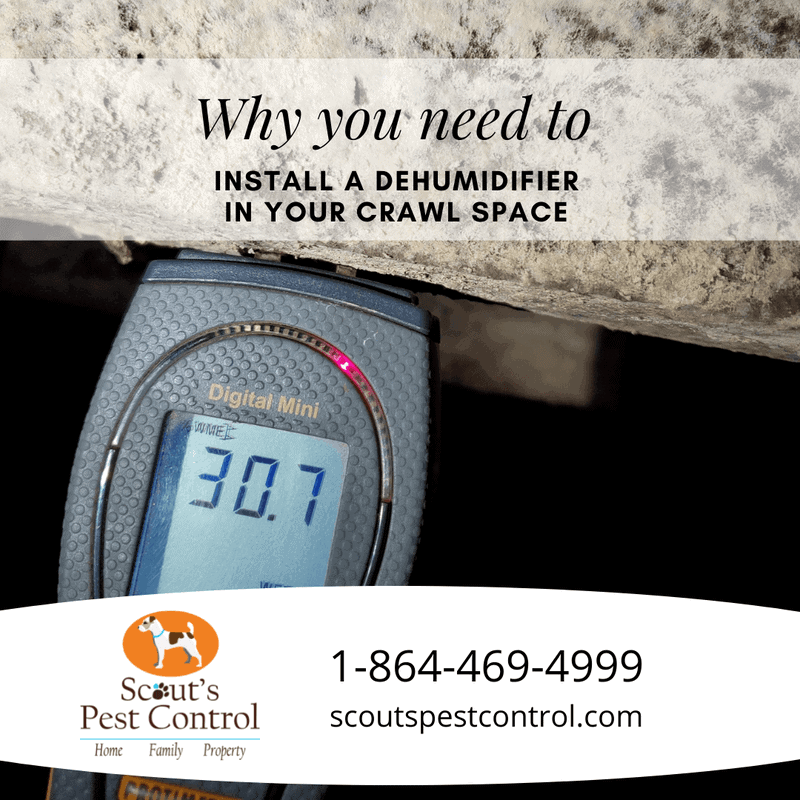 When this water in the air constantly absorbs into the wood, it expands the wood and marks the beginning of wood rot. If you have a feeling that the crawl space of your house is humid, book an evaluation of your property and consider getting a dehumidifier installed sooner rather than later.
Moisture-induced wood rot is a concern that should not wait for remediation. In South Carolina, the temperature can reach as high as 45 °C, and humidity as high as 75%. In poorly ventilated crawl spaces, they can cause havoc to wood and become a threat to the integrity of the house's structure.
Comfortable Humidity Level
A high level of humidity in your house can make you feel hot, sticky, and uncomfortable, and no one feels remotely comfortable in those conditions. A dehumidifier in your crawl space will help keep the humidity low. The right level of humidity can make the house feel comfortable, and it helps to keep energy costs low by helping your HVAC system run optimally.
With a dehumidifier installed in your crawl space, you also get to select the level of humidity in the air, so it is perfect for you and your family. In summers, it may not be the high temperature that bothers you too much, it could be the humidity. Therefore, the use of a dehumidifier can work hand in hand with your air conditioning system and can make you feel comfortable on a budget.
Higher Efficiency
A properly installed dehumidifier in your crawl space will offer added advantages when it comes to operating your HVAC system. By not making the air conditioning unit struggle due to using too much energy and having to overwork, you can save money. Your system will work more efficiently when it does not have to overwork in a highly humid environment.
Health Protection
There is one other major benefit that involves the healthy living environment and, of course, your own health. Having a dehumidifier in your crawl space helps get rid of molds and negates the conditions for infestations. Mold spores in the air cause breathing problems such as allergies, skin rashes, headaches, and shortness of breath in some individuals. Having the dehumidifier remove the conditions for the replication of these allergens and spores increases the health effectiveness of your environment.
Ideal Place to Install A Dehumidifier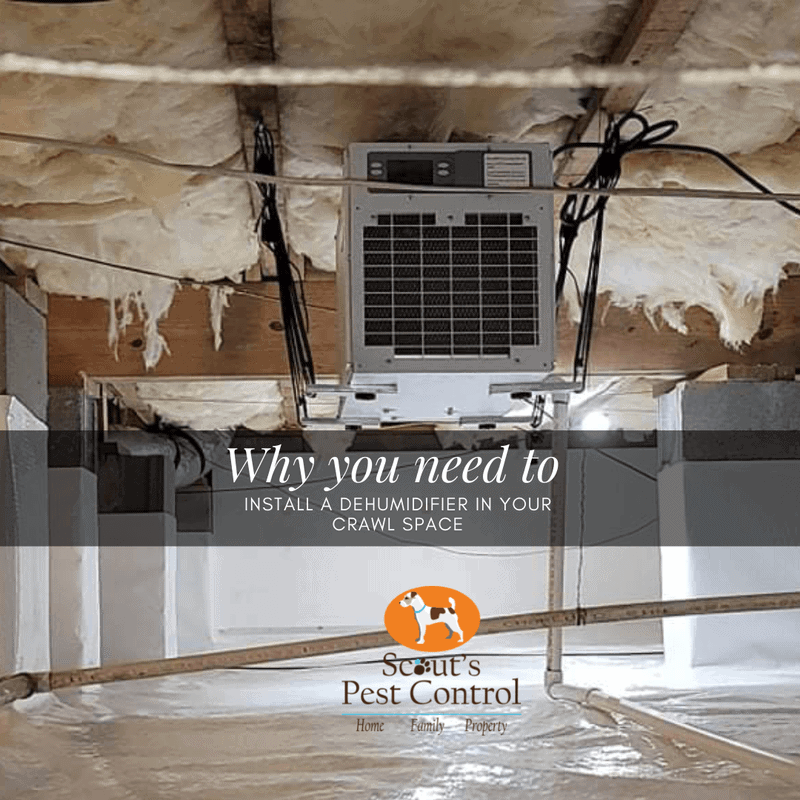 So, where is the best place to install a dehumidifier? Ideally, you should install a dehumidifier in a spot where the airflow is not blocked. It should be able to take in and discharge air easily. The humidity level can be adjusted according to your choice and moisture levels can be controlled.
You also have to make sure you choose the right dehumidifier unit. Not all dehumidifiers are the same and some are not made for the crawl space and could also become a fire risk if not installed properly.
It is recommended to book an appointment with a professional to find the right dehumidifier for your space and to ensure it is the right one for the right area. You might also want to install a hygrometer that tells the humidity level in the crawl space and ensure you install a dehumidifier safely.
Humidity in the crawl space should be taken care of as soon as possible to prevent any serious problems with your home in terms of its structure, pest control and, of course, for health reasons. To have peace of mind that your property stays the same and is safe, call a scouts' pest control for an assessment of your crawl space and to install a dehumidifier that will help keep out pests and increase your health.