What is a French Drain
A French drain is not a fancy, sophisticated creation born of French brilliance. It is a necessity in your crawl space should you have a standing water problem. In fact, it is the first stage of getting rid of that water in your crawl space. You have to do this before any encapsulation protection can be installed. However, not all homes have the need for a drain in the crawl space. Nevertheless, the soil here in South Carolina is heavy laden with clay in certain places, and that's just part of the Geology of the local environment, and we must account for that potential problem.
A French drain is typically installed near the edge of a house, providing relief to the house against the buildup of water against the walls if needed. However, there may be times when this is not enough, and often homes with crawl spaces and poor drainage can hold water in the crawl space and thus cause a plethora of moisture problems – especially if water has penetrated. It is therefore necessary to have a guaranteed solution before any encapsulation can take place. You must get rid of that standing water. A drain is dug within the crawl space that guides the water to the lowest point of the crawl space. Then the sump pump, which also is installed as part of the process — pumps the water away from the home. This negates those conditions that are conducive to invading pests and increased moisture problems.
How a French Drain helps in pest control
Pests thrive where moisture such as a water source or water pooling exists. In Kenny's own words;
Everything needs water for survival. That means pests too and if you give them a water source, then you have a problem
Moisture control is therefore a crucial factor in eliminating the conditions in your property which would invite; termites, cockroaches, rodents, mosquitoes, bed bugs and other such pests. If you are living in an area where there is plenty of rainfall or any other source of water logging; you must seriously consider removing that water source and negating the conducive environment for pests to thrive and survive. As we mentioned previously, many homes in South Carolina, have poor drainage due to geological conditions of the soil.
Not All Encapsulations Are Equal
You need to take precautions when you are investing in a company to carry out an encapsulation. There have been cases where the encapsulation has failed because the standing water and moisture issues were not dealt with in the appropriate manor. You can see from the pic below where the encapsulation has failed because of this standing water issue. This image came from an inspection carried out by Scout's Pest Control and found the following problems because of the lack of crawl space drainage.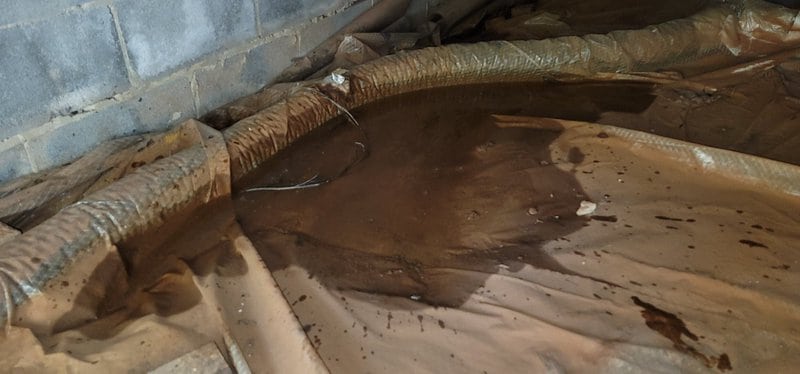 Not having the problem dealt with swiftly and professionally can cause more moisture problems, and that of course means pests that seek shelter, water and a food source. Having the drain and sump pump installed properly, should be the first port of call and a prerequisite due to your standing water problem. This is the first stage before any other moisture remediation can be effective.
Wood Damaging Pests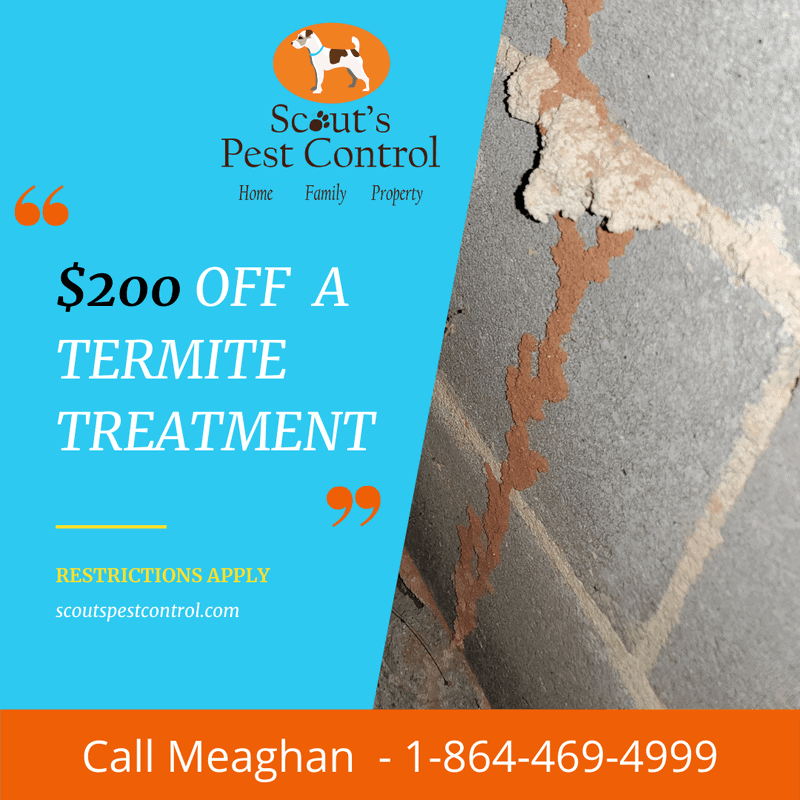 Besides draining the surface water, this ensures that your household is free of termites and other pests that would otherwise gain a foothold and threaten the structural integrity of your home. This is particularly important for older homes, which decay faster and are more prone to structural damage first from the accumulating moisture, and then the ensuing termite population or other wood damaging pests.
Wood Rot, Fungus and Mold
Pest control is perhaps not the only point to consider in the matter. If you have ever experienced an issue of standing water in your crawl space or basement or anywhere near the foundation of your house, you probably would have noticed subsequent mold formation, mildew formation or fungus buildup in the affected areas. All these agents weaken the wooden structural members in your foundation as well as quicken the decay of your property. So if you spot any mold or mildew or fungus in your crawl space or basement, the first thing you should think about is dealing with that increased moisture issue before getting your crawl space encapsulated.
Other benefits of a French Drain
There's a lot of benefits of having a French drain that we have already seen: water redirection, pest control, mold elimination. But that's not all.
Flood Protection
A crawl space drain is further a great means of flood protection for your home. Homeowners who have a French drain and pump installed in the crawl space have little to fear from a flood: the drain automatically removes potential flood waters to safer spots away from the home. The redirected water can then be used as harvest water for any irrigation projects that you may wish to run.
A Crawl Space Drain (French Drain) is An Investment
Its economy is perhaps the best thing about the crawl space drain. As previously mentioned, it is a necessity to install if you have a standing water issue, but it is almost always added to the cost of your encapsulation, which is an investment in the protection and integrity of your property. Nevertheless, the most important factor is to have the Drain installed properly. Our Scout's team have vast experience with the installation of these drains that work hand in hand with your pest solutions to negate these moisture issues.
The long-term economic benefits of a French drain are immense: with no unwanted moisture soaking your property, you'll be spending much less on house repairs, water treatment and pest control plans. So, with a crawl space drain and sump pump, every dollar you spend today is an investment to the desirability and valuation of your property for the future.