Pests and bugs are fond of living in new places. They do not just look for older homes, they look for new homes too for their seasonal breeding ground. Construction sites are among the most vulnerable places for pest infestation. Termites have always been a concern for those in the construction industry. There exists a primary concern about pest infestations and of course — termites and other wood damaging pests.
Your Agenda Is New Construction Termite Treatment
Millions of dollars in damage each year are the cause of Termite Infestations. Other wood damaging pests such as carpenter ants and rodents in construction sites also cause panic. These kinds of incidents put people at risk and buildings are crippled or destroyed within foundations and crawl spaces. Therefore, you need to consider new home construction pest control at the beginning of your project. No matter if you are building a new home or you are renovating an older home. Termite control should be one of the first things on the agenda.
Renovation of old buildings and the construction of new ones can both benefit from the consideration of new construction termite treatment or general pest control. This is important, even before the project gets started. Because of the way that construction projects happen; sites are inherently attractive to various pests. These pests include;
Planning for termite treatment and general pest control ahead of time will help you not only prevent infestations during the construction phases, but also help to keep pests out for years to come.
Quality Pest Control
To avoid poor services and making bad decisions, it is important to choose the best pest control company; one that will get the job done right at a price that is affordable to you. So, here is what you need to take into consideration.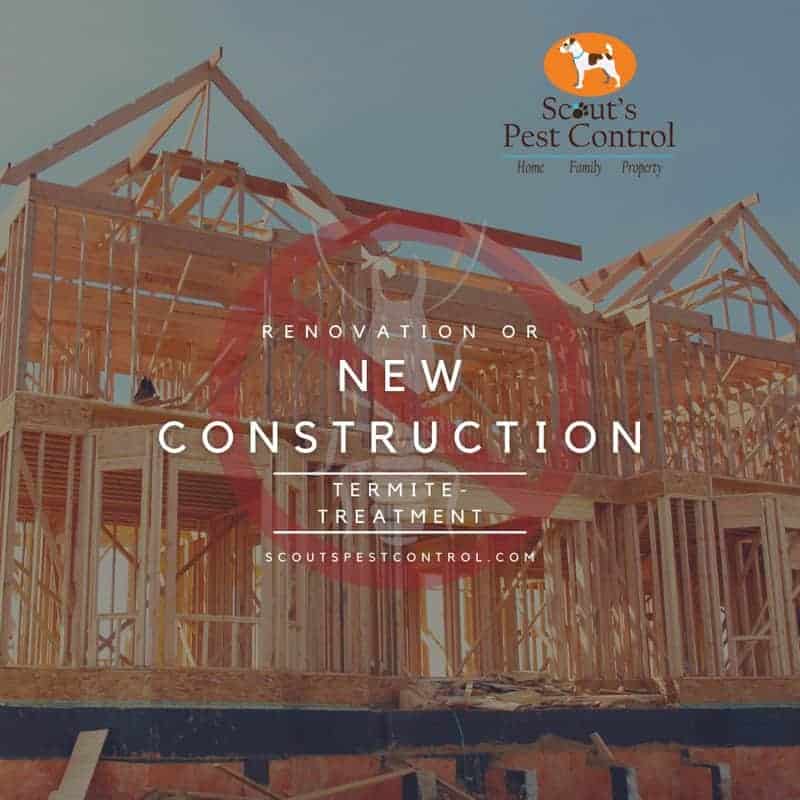 Renovation and new construction pest control should be considered during these three phases of the process:
Before
During
After Construction
BEFORE CONSTRUCTION
Whether starting afresh with a brand-new build, or renovating an old one. Working with a new home construction pest control company will help you address some important issues ahead of time, such as:
Termite Treatment. A new construction termite treatment helps to form barrier from the foundations and in the crawl space upwards. This protects your building from later infestations. This may include treating the soil prior to any slab placement. Also including specifically treating the areas where wooden doors, cabinets, and other items will be placed. Particular attention is drawn to foundations and crawl spaces if it is not a slab construction.
Monitoring. Pest monitoring helps to assess the surrounding area so you can be aware of what types of pests are nearby, and how you might prevent infestation of your building site. Know the type of pests prevalent in your area.
Moisture. Water is the elixir of life. It is always an attraction for pests, water sources such as ponds and lakes nearby should be considered when managing pest control for a construction site as well as any standing water in the crawl space.
Grading. If your property is not appropriately graded, water may begin to form around the site. This will be attractive to termites, mosquitoes, and other pests.
DURING CONSTRUCTION
New Home Construction Pest Control Services
In the midst of construction phases, many details need attention. Renovation or new construction pest control might seem trivial, but don't underestimate the opportunities for pests to invade your work site. Work with your construction team and pest control expert to actively address pest control on your construction project by keeping the following in mind:
Be mindful of waste that is found around the construction site. This waste may be the attraction to a plethora of pests. Human food, cardboard, wood, and other items used during the process might create a food source or habitat for certain pests, and especially wood damaging pests.
Remember that new construction may be disrupting the existing habitat of a pest population—particularly of the rodent variety or carpenter ants. Carpenter ants unless treated to destroy the nest will just split away and come at your site from another angle. Employ a pest control company during construction to set traps or bait around the exterior of the construction site to eliminate the relocation of pest population.
Inspect all incoming materials for signs of pest infestation prior to bringing them onto the site, particularly in the case of wood that might be infested with termites.
Take the advice of a pest control expert on how to prevent termites. This may include using chemicals in areas of excavation, perimeters, pipe bedding, and other places where termites might be attracted.
AFTER CONSTRUCTION
Look for pests during the wrap-up and move in phases of construction. During this time, many "kinks" will often be worked out in the way the building has been constructed, and pest control is just one of these factors.
Look for cracks and holes through which pests might be able to crawl, then seal them up.
Be diligent about recycling waste immediately, as this can become the at tractor factor for certain pests.
Install sodium vapor lights around the building exterior, which is less attractive to pests than traditional incandescent or fluorescent lights.
Landscape wisely to keep shrubs at least two feet away from structures, and choose plants that are less likely to attract insects. Make it a matter of importance not to mulch close to the building as mulch is a massive attraction to termites in particular.
Consult an HVAC expert to be sure there is positive airflow out of the building to deter pests from entering. Make sure the humidity levels are within the acceptable range. Ensure air conditioning ducts are sealed and protected.
Consult your pest control professional to perform complete termite prevention within the walls, wood, masonry voids, and other places to create a termite-proof barrier around the house.
Keeping pests at bay during all the phases of construction or renovation can be accomplished through cooperation with a pest control professional. A pest inspection within 90 days or so after move-in may be recommended to ensure that the pest control plans have been successful. An ongoing service schedule by pest control experts will keep critters away for the long term.
Conclusion on New Construction Termite Treatment.
No matter what type of pest you consider as a threat. Termite treatment in a new construction or renovation is imperative and it will save you much heartache. However, there are a plethora pf pests to consider when it comes to pests invading your new home or your renovation project.
You will often find that termite treatment will also cover other pests and the proper planning of baiting and treating the home will save you an extensive amount of money should your project be the target of pests. Though termites are the biggest concern and a necessity requiring a termite bond, carpenter ants can do just as much damage.